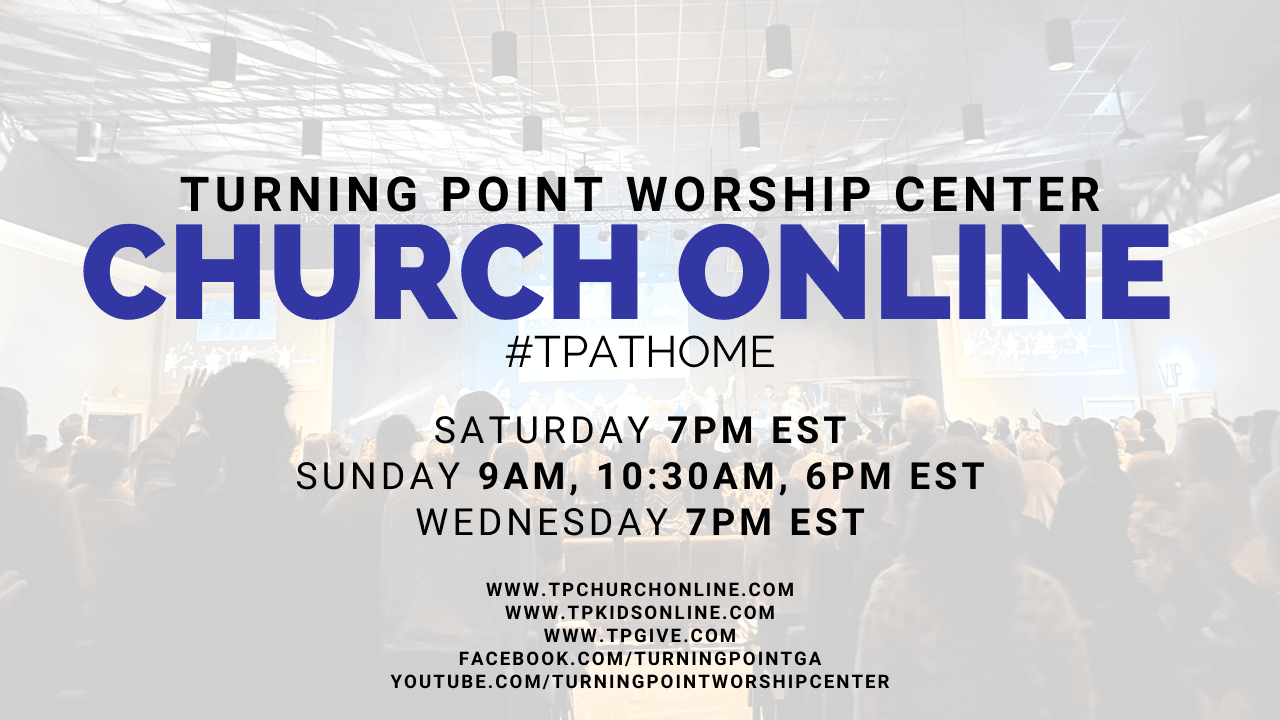 CHURCH ONLINE
Our LIVE ONLINE WORSHIP EXPERIENCE starts Saturday at 7PM and Sundays at 9AM, 10:30AM, and 6PM EST!!! Here are a few tips on how you can join us online:
1. Visit www.tpchurchonline.com
2. Or join us on Facebook at Facebook.com/turningpointga
3. Also available on YouTube.com/turningpointworshipcenter
4. Sign into chat and invite your friends! THAT'S IT!
We can't wait to see you ONLINE Sunday!
GIVE BY CHECK
The opportunity to give by check is available. Simply make checks payable to Turning Point and mail to:
1810 South Palm Street
Jesup, GA 31546
GIVE ONLINE
TEXT TO GIVE
Text the amount to 844.906.0967
Why Give?
We respond to the gospel by bringing our first and best because God gave His first and best in Jesus. As many people enter into a relationship with Christ, please know that it couldn't happen without your generosity. We are truly grateful for your donation and hope the convenience and simplicity of online giving will be helpful to you.
Financial giving can be divided into two categories: tithes and offerings. The Bible teaches us that we worship the Lord with our tithe, which is ten percent of our income contributed to the church on a regular basis. When we feel called to give over and above our tithe, we do so as an offering.
CHURCH ONLINE - REMAINDER OF MARCH
SERVICE UPDATE || In light of the growing national concerns and the request of Governor Kemp and President Trump to cancel gatherings of more than 10 people to help prevent the spread of the coronavirus (COVID-19), the leadership of Turning Point has decided to host all of our services online during the remainder of March.
Starting Sunday, March 22, we will be moving our Sunday service to a live, online church-at-home experience. You'll be able to participate in worship, pray together, give online, and hear a message from Pastor Justin Mitchell. We are making graphics available for you below to save and help us spread the word on your social media.
If someone asks why your church chose to respond to this health crisis by moving services to online only, here's our response:
1. Our physical doors may be closed, but our church is not. (You can find us online throughout the week!)
2. We are loving our neighbors by protecting our neighbors.
3. We are not being fearful. We are being responsible.
4. This is what love requires of us in this season.
5. No one has forced us to make this decision. Our church leadership has prayed, conversed, read Scriptures, and made what we feel is the best decision for our church family as whole.
For now, keep yourselves healthy and we'll see you online tonight and this weekend! We love you!
P.S. Stay up-to-date by visiting
tpwc.church
🙏🏽
-Pray for our Nation, our state and our leaders
-Pray for our medical professionals as they respond
-Pray for those across the world who need healing
-Pray that in spite of all the uncertainty, that God would be glorified and people would find truth in Jesus!