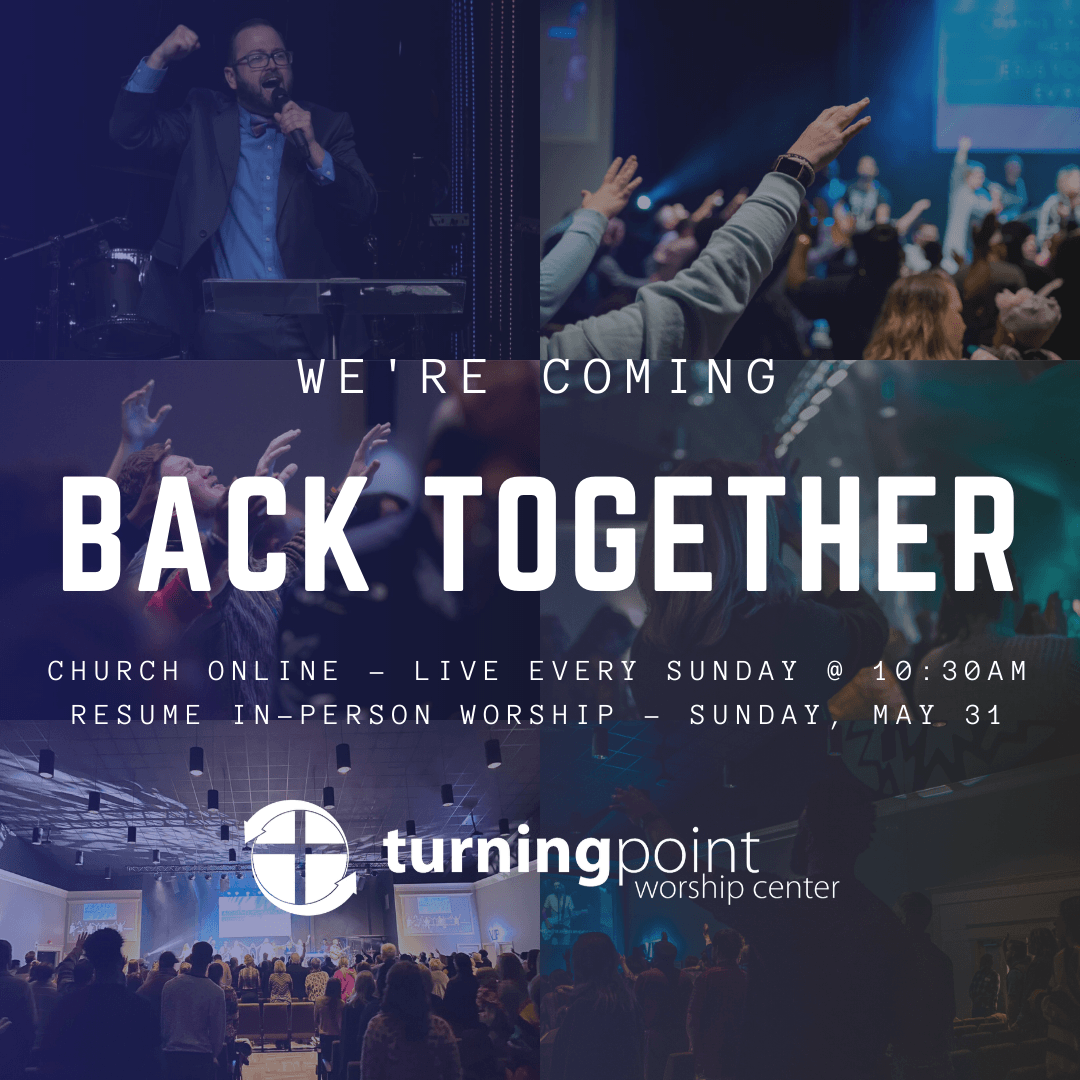 Pastor Justin just announced some important changes coming to our church family. We've created some infographics to help you stay informed. You can click below to watch the recent message from Pastor Justin Mitchell.
ONE service ONLINE beginning Sunday, May 3 and moving forward on Sundays at 10:30AM.
We will TENTATIVELY resume in-person worship experiences on Sunday, May 31 at 10:30AM. You can reserve your seat(s) for upcoming service by clicking button below:

CHURCH ONLINE
Our LIVE ONLINE WORSHIP EXPERIENCE starts Sundays at 10:30AM EST!!! Here are a few tips on how you can join us online:
1. Visit www.tpchurchonline.com
2. Or join us on Facebook at Facebook.com/turningpointga
3. Also available on YouTube.com/turningpointworshipcenter
4. Sign into chat and invite your friends! THAT'S IT!
We can't wait to see you ONLINE Sunday!
GIVE BY CHECK
The opportunity to give by check is available. Simply make checks payable to Turning Point and mail to:
1810 South Palm Street
Jesup, GA 31546
GIVE ONLINE
TEXT TO GIVE
Text the amount to 844.906.0967
Why Give?
We respond to the gospel by bringing our first and best because God gave His first and best in Jesus. As many people enter into a relationship with Christ, please know that it couldn't happen without your generosity. We are truly grateful for your donation and hope the convenience and simplicity of online giving will be helpful to you.
Financial giving can be divided into two categories: tithes and offerings. The Bible teaches us that we worship the Lord with our tithe, which is ten percent of our income contributed to the church on a regular basis. When we feel called to give over and above our tithe, we do so as an offering.